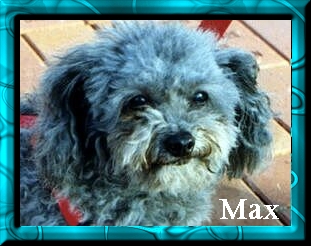 Max was born on Nov 10, 1989. He entered our home and our hearts on Feb 10, 1990. He's an 8 lb. cockapoo who is very spoiled and very much loved. He's full of energy and loves to run but only if someone is watching him. Playing fetch is his favorite pastime. He's quite a guy, our little Max! He has his own site on the web called Max's Corner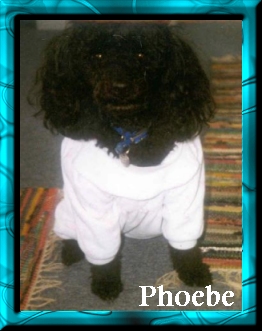 I was born on the 21st December 1996 and found a home with my human Melanie 8 weeks later. My mother (a toy Poodle) was silver, my dad (a miniature) was apricot. But I came out pure black, although I must admit that I am going a little grey in places! We lived in England, but moved all the way to Wales on the other side of the country. I am now very settled and Melanie dedicated a website to me because she loves me soooooo much!!
My name is Snowflake and I am a peke-a-poo.My birthday is Nov.11.I was a "swimmer" at first but you would never know it now.For everyone that thinks a swimmer means I loved water that was not it.It meant that I was flat chested and my legs stuck out from the sides.I sort of looked like a turtle.But me and Mom worked on this and know I am just fine.My birth Mother is a white poodle named Missy and my daddy is a sable pekingese named Popeye.I have a lot of AKC Australia champions in my background. I am just so proud of me.You can visit me and daddy and all my other friends at this address.Come over and take a peke at us.

Home