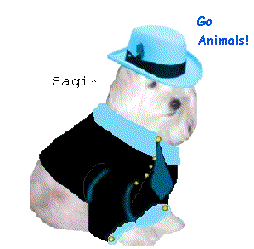 We are the animals , and we're a team,
not just in The Site Wars , in the life too
we need each other and we scream:
GOO ANIMALS GOO
because
T-ogether
E-veryone
A-chieves
M-ore
GO ANIMALS!

Cheer donated by Dolphin Dreams

I don't blind vote. I look at every page I vote for before I vote for it and I only agree to vote exchange if I think the page is good.

If you would like to vote exchange with me, please Email Me with your url.
If you are not in the site wars, and you would like a reminder to vote for me, please Email Me and tell me whether you would like to be reminded daily or weekly. You can always find the link on the first page. You can only vote once a day per ISP. Also, while you are there, be sure and check out the other great pages in theanimal kingdom. Maybe even consider joining.