Madelynne-Efurrything here has catnip in it
Rufus-What are mew complaining about? Mew took us to a doggie bakery!
Max- I think Madelynne is worried about Cleo, she has a strange reaction to catnip
Sagittarius-Ghosts, No more ghosts..Oh pleeeeze lets go hooooome!
Tasha-Does catnip have the same effect on Sagittarius? Did he get some?
Booger-Will somebody turn him off?!



And that's the end! Time to go home! I hope mew had fun!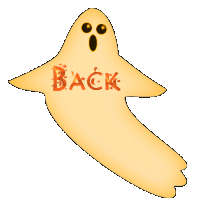 Back to the start page
Emeow My meowmy and tell her how many ghosts mew found

About Halloween Safety
Home

The malt shop on this page was made in PSP following a tutorial by Ronni



View My Guestbook
Sign My Guestbook